Are you searching for roof cleaning in Sydney's Eastern suburbs? Find out why The Roofing Professionals Eastside is the best choice for you.
If you're looking to revive your roof and give new life to the look of your property then roof cleaning is the way to go! All Roofing Professionals staff members are fully trained in roof cleaning using the latest materials to ensure all crevices, tiles and flashings are cleaned efficiently and effectively providing you with a thorough job, time after time.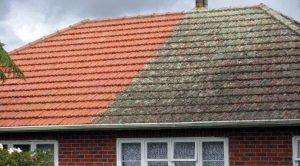 Roof Cleaning – What is involved?
It is important to ensure the roof is watertight before we commence any roof cleaning. This may mean we have to replace a tile or repair your flashing. Once the roof is watertight our roofers will spray the roof with a non toxic and biodegradable specialised roof cleaning agent. This loosens the grip of moss and lichen to your roof tiles. If you have a cement roof this step is not needed. The roof is then pressure cleaned with a high pressure round whirl roof cleaner. A second hose is then used to clean guttering and flashing safely without causing any damages. After this, the roof will be rinsed with a protective tile agent.
Cleaning can make a roof look brand new and is a popular option after a house as been rendered or renovated. Roof cleaning also helps with the resale of your home.
If you have a Colorbond roof, it can be easily cleaned with a high pressure hose.
The Roofing Professionals also clean and remove unsightly moss and mould on your roof. Overtime mould and moss on a roof can contribute to it leaking. It is important that your roof is kept clean. We can also repaint your roof provided the tiles are still sound.
Whenever we install a new roof we offer a free cleaning service if any tiles happen to get dirty in the replacement and building process.
Get in touch today for quality roof cleaning in Sydney's Eastern suburbs.