Roof flashing is a thin layer of waterproof material that keeps water from entering your roof. Water can seep into unwanted areas causing decay and structural problems if roof flashing is not installed correctly. Dampness also often leads to termites and carpenter ants entering the roof.
What Does Roof Flashing Look Like?
Flashing is used to carry rain water safely over crevices cracks, or gaps in the building or roof. See the illustration below as an example.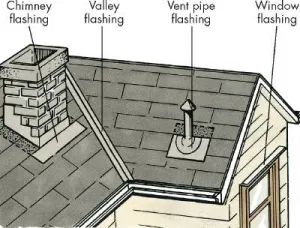 Examples of typical roof flashings. Image Source.
If you want to check that your roof flashing is installed properly, you need to follow rainwater slinging along your house and make sure that no drops enter any aspect of the building.
As flashings are so important, they should be installed or fixed by a professional. There are many areas for water to penetrate your roof. These areas include vent pipes, chimneys, open areas under eaves and open areas below valleys. Structural damage will occur over time if these areas are not protected from water. This can lead to expensive and unnecessary problems to solve.
What is Roof Flashing Made From?
Flashing can be made from many different materials. Traditionally it was made from lead but modern flashing includes aluminium, copper, galvanised steel and PVC.
The Roofing Professionals will advise the best material to be used for particular flashing needs. We use top quality, cutting edge materials to ensure a long lasting and efficient job is done. Overtime flashings have evolved becoming stronger and more reliable and we keep up with the latest trends to ensure customer satisfaction. Ask our experts for different flashing options available and suitable for your home.