Do you need a roof repair in Sydney's Eastern suburbs?
The Roofing Professionals have been offering roof repairs services for over 29 years in Sydney's Eastern suburbs. Our time spent up on roofs ensures you will be given a great roof repair at a great price.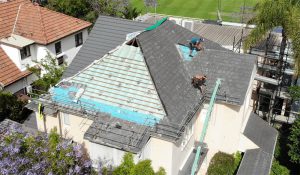 created by dji camera
What Can We Help With?
We are renowned for repairing almost any leaking roof and our work usually involves repairing broken tiles, fixing ridge capping, valleys, re-bedding and re-pointing. The main reasons customers may need their roofs to be repaired are due to having an ageing roof. This often results in broken or damaged roof tiles where leaks and structural problems can become evident. When a roof tile is damaged water can seep through entering the roof and walls of the house. If damaged roof tiles are left unattended dampness in the roof cavities can weaken the structural timbre in the house causing further unnecessary damage.
Wet timber also attracts white ants and termites where new timbre will need to be installed. It is best to repair broken roof tiles as soon as they are noticed to prevent unnecessary future costs. At times but not often electrical wires can get wet becoming dangerous and hazardous to the people living within the home. We recommended that as soon as you notice a leak you contact a professional to repair it.
It is also known that a roof which is repaired regularly can extend the life of a roof. Properly competed repairs roof can extend the life of your roof up to seven to ten years if repaired as soon as it is noticed.
The Roofing Professionals specialise in:
Tile roof repairs
Cement roof repairs
Terracotta roof repairs
Metal roof repairs
Salte roof repairs
Colorbond roof repairs
If you are in need of a roof repair in Sydney's Eastern suburbs, please contact us for a free no obligation quote.